Aligned VC –

Helping unconventional founders bring their ideas to life

We bring meaningful investment experience, a diverse support network and a committed partnership to enable founders of all kinds to realize their vision.
Companies
All Aboard

Solving the user experience of international train travel. Easily explore, plan & travel sustainably by train.

Industry Travel
Year 2020
City Stockholm

Visit All Aboard

Astrid Education

Combining storytelling with an engaging AI-powered learning journey to help kids and teens around the world become fluent, confident English speakers.

Industry Education
Year 2021
City Stockholm

Visit Astrid

Beauty Disrupted

A beauty brand free of plastics & harsh ingredients in Soap bar format. Each bar replaces at least 2 plastic bottles. Designed in Stockholm and consciously crafted in the South of France.

Industry Beauty
Year 2021
City Stockholm, Grasse

Visit Beauty Disrupted

Beckley Psytech

Dedicated to helping patients suffering from neurological and psychiatric disorders by developing a pipeline of psychedelic compounds into licensed pharmaceutical medicines.

Industry Healthcare
Year 2020
City London

Visit Beckley Psytech

Big Atom

A clean recycling company creating a circular economy for polymer materials, creating new life for hard-to-recycle plastics.

Industry Recycling
Year 2019
City London

Visit Big Atom

Buddywise

Enabling traditional industries to automate safety surveillance through computer vision and monitoring of critical scenarios through video images.

Industry Safety tech
Year 2020
City Berlin

Visit Buddywise

Chess.com

The leading online destination for playing, learning and watching chess.

Industry Online gaming
Year 2021
Country USA

Visit Chess.com

Contingent

A Saas tool for a quick, complete, up‑to‑date analysis of suppliers

Industry Supply chain Saas
Year 2021
City London

Visit Contingent

Cloop

Aiming to convert single-use packaging to circular packaging based on the aluminum can and the deposit return system.

Industry Packaging
Year 2020
City Stockholm

Visit Cloop

Flowery

Bringing cut flowers to the door of your home and office in a sustainable way, as a subscription service.

Industry Subscription services
Year 2019
City Stockholm

Visit Flowery

Freshsound

Automating the process of music sync for content creation.

Industry Music tech
Year 2020
City Stockholm

Visit Freshsound

Ketonico

A company committed to healing humanity through better food choices.

Industry Food/nutrition
Year 2021
City Barcelona

Visit Ketonico

Klarna

Payment solution provider.

Industry Payment solutions
Year 2018
City Stockholm

Visit Klarna

LALA Plants

Bringing high-quality plants smoothly to your doorstep with home delivery, creating green environments for us to feel good.

Industry House plant delivery
Year 2021
City Stockholm

Visit LALA Plants

Memory

Specializes in crafting software that makes companies more productive, including an AI-based time-tracking and planning tool as well as helping to solve for deep work planning.

Industry Productivity SaaS
Year 2021
City Oslo

Visit Memory

Insights

Giving people access to expert insights and key learnings from tldr, talks and podcasts by world renowned health & wellness thought leaders, in just a few swipes.

Industry Health & Wellness
Year 2019
City Stockholm

Mojo Fertility

Creating the future of fertility care using AI and robotics. Accessible, affordable and reliable preemptive care.

Industry Health tech
Year 2021
City Lyon

Visit Mojo

Odetta

Helping individuals buy and sell used cars safely and at a fair price as well as managing every step of the process.

Industry Marketplace
Year 2021
City Mexico City

Visit Odetta

Producers Market

Pioneering transparent food value chains. Producers Market facilitates direct market linkage to empower farmers and incentivize regenerative farming.

Industry Regenerative farming
Year 2022
City San Francisco

Visit Producers Market

Pet Media Group

The leading operator of online marketplaces for pets and horses.

Industry Marketplace
Year 2019
City Stockholm

Visit Pet Media Group

SeenThis

Shaping the future of screen experiences through streaming. A unique technology platform that disrupts the efficiency for the display of digital content.

Industry Ad-tech
Year 2018
City Stockholm

Visit SeenThis

Storstad Properties

Property development with a focus on delivering well-located, good-quality rental apartments in London.

Industry Property development
Year 2020
City London

Visit Storstad Properties

Swiss Organic Partners

Striving to improve life by making high quality, Swiss made cannabinoid products accessible to everyone, both in the wellbeing and the medical cannabis market.

Industry Cannabis
Year 2021
City Zurich

Visit Swiss Organic Partners

TalentUp Africa

Connecting people and organisations with an efficient and objective recruitment platform, in Nigeria and across the African continent.

Industry Recruitment
Year 2020
City Lagos

Visit TalentUp Africa

Three Spirit

Designing a functional & healthier booze alternative. Plant scientists and bartenders working for happier and healthier ways to socialise.

Industry Non-Alc beverages
Year 2018
City London

Visit Three Spirit

Wild Immersion

Providing educational, ethical and ecological 360° VR entertainment of wild animals and their natural habitats.

Industry Education
Year 2020
City Paris

Visit Wild Immersion
Our approach
We build
supportive

partnerships with founders

We take a personal and value-driven approach to investment and work to ensure our partnerships are a true meeting of minds - not just your business plan.

We combine an extensive network of entrepreneurs and investors with years of strategic experience to help drive your business forward.

Our office is in Stockholm but we spend our time wherever inspiring people and ideas may be.
Who we invest in
Founders that see the world
differently
We seek passionate, thoughtful teams who are finding unconventional solutions to common problems.
We are sector agnostic and invest in businesses in a wide range of industries – from Ad-tech to consumer goods, ecommerce to property development.
Who we are
Aligned is an investment vehicle sprung out of our shared joy for entrepreneurship. We also believe it is possible, as an investor, to promote positive change not only for companies but for communities of all sizes.
Aligned was founded in 2019 by two childhood friends, Eric Carlson Rydman and Christian af Jochnick.
Before we were called Aligned, you might have heard of us as 183 Invest. Same company, same team.
Eric Carlson Rydman
Managing Director
Eric handles the day-to-day operations of aligned, supporting the portfolio and scouting for new investments.
Before aligned, Eric held senior commercial and strategic positions at Spotify. Prior to that, he was a Corporate Finance Advisor specialising in M&A at Stockholm-based Access Partners.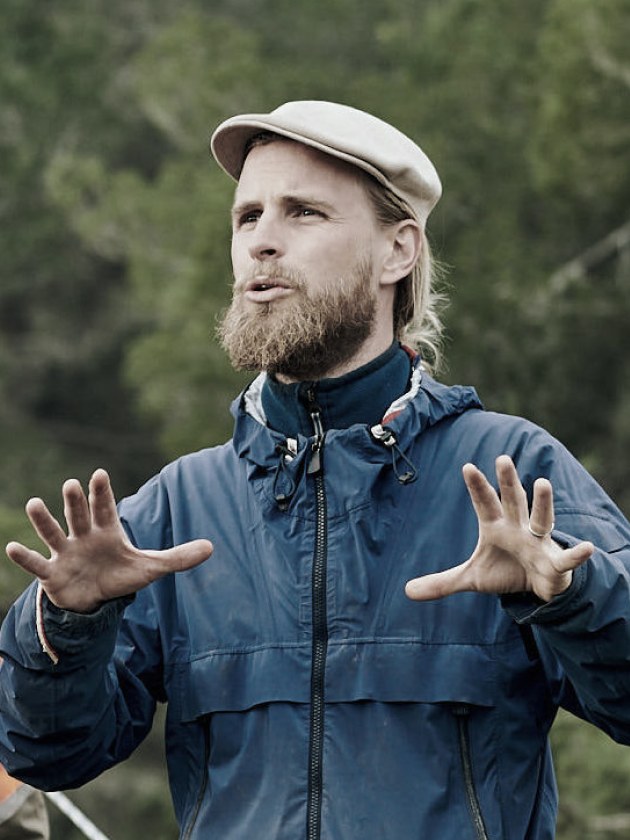 Christian af Jochnick
Founding Partner
After starting his career at Goldman Sachs in London followed by his own stint as a start-up co-founder, Christian entered the venture space and has been supporting entrepreneurs since 2013.
He currently supports a range of social and environmental initiatives as a board member of the Af Jochnick Foundation. His main personal passion is the role plant medicines and regenerative agricultural can play in helping us transform our societies.